General Instructions For Polishing
Suppliers of an extensive range of polishing products and accessories to professionals, retailers and the DIY enthusiast.
What is Polishing 
Polishing sometimes known as finishing, buffing or colouring is the process of removing scratches and abrasions from a surface, and creating the desired brightness of finish on that surface.  Polishing, like using sand paper, consists of procedures each of which is less abrasive than the previous. A combination of mops and compounds are used with a buffing machine or a household electric drill (pneumatic tools may also be used but only at relatively low speeds (4000 rpm max.)
Different combinations of polishing wheel and compound gives the desired cut / colouring action and finish. To avoid contamination or mixing of compounds use a different mop for each compound. Do not mix different compounds on the same mop. Alternatively "freshen" the polishing wheel with a wire brush to remove residue compound and metal from the wheel.
If you are polishing small articles then you can fix your drill into a vice, this will enable you to polish these small articles with ease.
Sometimes when you have polished you may see a slight coat of grease or finger marks on the work piece, these can be removed with Whiting Powder followed by Liquid Reflection or Mirrorfinish Metal Polish to complete the job.
If you wish to Electroplate or lacquer the polished article please make sure you use a good degreaser and do not protect with wax polish. Any dirt or grease/wax will interfere with the adhesion of the plated metal or lacquer.
Surface Polishing Preparation 
Unclean/dirty/greasy material should be prepared properly before being polished. For polishing soft metals and depending on the surface condition, start at 6 on the step by step guide above. Should parts be heavily scratched, marked or scored then suitable abrasives should be used.( flap wheel, abrasive cloth/paper, rubbing blocks etc. )
In many instances the surface of what you are polishing will need to be prepared prior to polishing. The preparation really depends on the condition of the surface and the desired finish you require. The devil is in the detail hence the better you prepare the surface the better the final result. The use of wet/dry abrasive papers and discs may be required and the finer the abrasive, generally the easier and more impressive the polished finish.
Drill-Polisher-Grinder Adaptors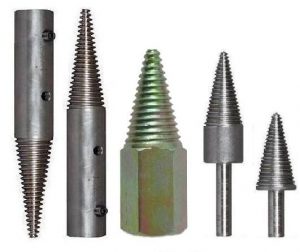 Spindle adaptors, tapered Mandrels are used to secure your polishing wheels onto your drill machine, bench grinder, variable speed polisher/grinder etc.
Before purchasing an adaptor check the dimensions of the shaft and threads to see if we have the relevant adaptors for your machine.

Description Of  Polishing Wheels & Mops
These are very fast cutting and hard, they are particularly useful for first stage heavy duty mopping operations on steel and non-ferrous metals. They will remove grinding marks left from previous operations, when processing steel, stainless steel or non-ferrous metals and are usually used in conjunction with a coarse cutting stainless steel polish.
Colour Stitch     White Stitch Polishing Wheels.
Versatile cutting mops used for general polishing, can be used for first stage polishing with Brown polishing compound on soft metals (brass, copper, etc), or for second stage polishing on hard metals with Pink polishing compound.
Loose Flap Quality Polishing Wheel.
A harder grade of loose mop which is commonly used as an alternative to white stitch mops. Very popular for precious metals.
Swansdown (WDR) Polishing Wheels
A very soft grade of finishing mop. WDR means "white double raised" and these wheels are also know as Swansdown wheels. Generally used for soft precious metals, jewellery etc. in the final finish.
Airflow Treated and Untreaded Polishing Wheels
Quality materials are used in the manufacture of these wheels, ensuring a longer mop life and greater output compared with conventional mops. They are very clean in operation and are specially suited for heavy duty moping and finishing on metals, plastics and other non metallic materials. The treated Airflow wheels are more aggressive and used in the cutting, first stage of polishing whilst the untreated airflows are for finishing.
Dome Cylinder Goblet Polishing Wheels
Supplied in sisal and calico these drill mounted polishing mops are used to access tight and difficult to reach areas.
Excellent for use in maintenance kits, the calico mops can be used with most of our compounds.  The sisal mops can effectively be used with our cutting compounds.
Versatile across many mediums, these medium density points will work on stone, ceramics, metals, as well as jewellery. Bonded onto a 3mm/6mm shaft that fits most rotary tools or drill machines. These felts tools are a popular and economical method of polishing when used in conjunction with compounds.